Wireless Thermostats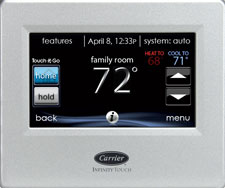 A remote, WiFi thermostat delivers more than precise temperature control. Upgrading your existing thermostat to a state-of-the-art alternative allows complete management of your HVAC system, conserves energy, and will raise your expectations for comfort and convenience. While programmable thermostats have been around for a while, offering the ability to set temperatures according to the day of the week, or time of day, wireless thermostats open up a whole new world of possibilities. When you contact Broom Heating & Air Conditioning for more information, our knowledgeable team of professionals are happy to explain the benefits of various models, make recommendations, and provide quick and accurate installation.
Get ultimate comfort with a wireless thermostat!
Most people's schedules vary from week to week, or even day to day. A WiFi thermostat gives you the freedom to adjust the indoor conditions of your home or business from anywhere, at any time. Maybe you forgot to turn down the heat when you left for work. Maybe you're coming home early, or woke up in the middle of the night feeling chilled. With your smartphone, tablet, or computer, you can quickly and easily make temperature changes. You can even tell your thermostat to automatically adjust indoor conditions based on your smartphone's location. And since comfort is influenced by humidity and circulation, as well as temperature, you can optimize your environment to your preferences.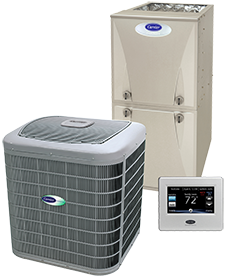 HVAC is the largest source of energy consumption in your home, and efficient management is the key to cost-savings. With a wireless thermostat, properly installed by the certified technicians from Broom Heating & Air Conditioning, you'll enjoy perfect comfort when you're at home, and energy savings when you're away. Knowing exactly how long it takes to reach ideal temperatures, your wireless thermostat will adjust settings so that energy is never wasted and comfort is never compromised. You'll also enjoy the peace of mind of extreme temperature alerts and filter change notifications sent to your connected network device. You can easily monitor your heating and cooling system by logging in. So even if you're across the room, across town, or around the world, you can check the status of your home, business, or vacation home.
With a wireless thermostat, you will enjoy your air conditioning and heating systems even more!
With motion-sensor illumination, displays light up as you approach. Bright, simplified touchscreens offer user-friendly iconography, and can be customized in appearance. Change the color of the faceplate to match your decor or suit your mood. Upload your favorite photo or even support your favorite team. Some models even offer voice control. Using pre-programmed commands, you tell the thermostat what you want it to do, and it will act accordingly. The experienced technicians from Broom Heating & Air Conditioning will provide installation and make sure you are comfortable with the operation and convenient features of your new thermostat.
Simplify your life, take control of your comfort, and enjoy the rewards of superior efficiency. A wireless thermostat is the key to modern living. Contact the specialists from Broom Heating & Air Conditioning, we'll put the height of luxury at your fingertips.
---
HVAC Company, Wireless Thermostats, Remote Home System, Wireless Air Conditioning, WiFi Thermostat in Columbia SC, Dentsville SC, Lexington SC, West Columbia SC, Blythewood SC, Irmo SC, Forest Acres SC