Indoor Air Quality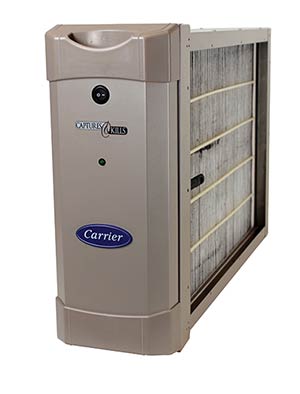 Everybody wants to feel good and stay healthy. The air you breathe is just as important as the food you eat. Unfortunately, it can be difficult to recognize problems with air quality, even while you're living with the results. Headaches, respiratory infections, rashes, aggravated symptoms of asthma and allergies, sneezing, coughing, watery eyes, and nausea are all signs of indoor contaminants. Through proactive measures, you can greatly improve the quality of breathing air and enjoy a cleaner, healthier, and more comfortable home. As a Carrier Factory Authorized Dealer, Broom Heating & Air Conditioning offers our customers proven and cost-effective options to optimize your indoor environment.
We start with a complete indoor analysis to determine the best way to combat air quality issues. Our goal isn't to sell you something you don't need. We strive to create a comfortable, more efficient and rewarding indoor environment, and we believe in the systems we install. With over 50 years of experience, we've seen the benefit of indoor air treatment and make informed recommendations to maximize the value of your investment.
Keep your family healthier with improved indoor air quality!
You may not be able to even see the most dangerous threats to your health. Biological and chemical pollutants, such as mold, bacteria, viruses, allergens, odors, smoke, and other concerns are often microscopic. They slip right through the most efficient HVAC filters. Whole-home air purifiers are a powerful line of defense. Installed into the HVAC system, air purifiers maintain clean indoor air, while also promoting efficient operation from your heating and cooling equipment, reducing maintenance costs. The award-winning Carrier Infinity Series air purifier features Captures and Kills Technology to re-purify circulated indoor air up to eight times per hour.
In the same way UV wavelengths from the sun destroys and deactivates biological and chemical contaminants outside, germicidal UV lights sterilize airborne bacteria, allergens, and microorganisms inside. You'll benefit from cleaner breathing air, as well as superior performance and lowered maintenance costs from your HVAC system. Installed in your central air system, UV lights destroy mold that flourishes inside an HVAC system, strangling system efficiency, reducing blower life, and necessitating expensive cleaning with chemicals. Reducing concentrations of airborne bioaerosols by fifty percent within 45 minutes, this leading-edge technology is commonly used in most hospitals.
Broom Heating & Air Conditioning will be there for all your HVAC and indoor air quality needs!
Whatever your personal concerns for air quality, Broom Heating & Air Conditioning can help. From ventilation, humidity control, and filtration systems, to purifiers and UV technology, we offer a wide range of rewarding products to answer your specific needs. These products target contaminants that cause health problems, property damage, discomfort, and system inefficiency. Fewer HVAC maintenance requirements and ideal efficiency often pay for installation. While the many innovative choices can be a bit overwhelming, the specialists from Broom Heating & Air Conditioning would be happy to discuss your goals and make informed recommendations. We always strive to satisfy our customer's indoor comfort needs as we would our own.
---
HVAC Company, Indoor Air Quality, Air Purifier Installation, Duct Cleaning, Vent Cleaning, Indoor Air Quality Testing in Columbia SC, Dentsville SC, Lexington SC, West Columbia SC, Blythewood SC, Irmo SC, Forest Acres SC