Ductless HVAC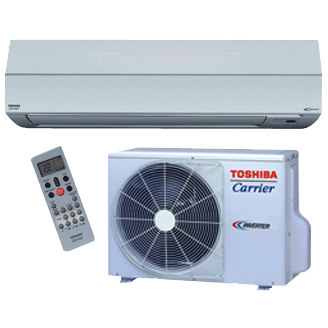 If you're looking for precise and efficient temperature control, but don't want to deal with the mess, disruption, and expense of installing ductwork, Broom Heating & Air Conditioning has the perfect solution. No major renovation. No cutting holes in walls and ceilings. No more space heaters, window fans, and portable A/C units. With a state-of-the-art, ductless mini split system, you'll enjoy all the comforts of a refreshingly cool home. And when the specialists from Broom Heating & Air Conditioning handle installation, your project is completed promptly, neatly, and accurately. We partner state-of-the-art products, in a wide range of sizes, with precise workmanship, to deliver the greatest benefit from your investment.
Find out if a ductless HVAC system is right for you!
Ductless mini splits are made up of two main components. An outdoor compressor/condenser unit and an indoor air handling unit are linked by a conduit that carries the power cable, refrigerant tubing, suction tubing, and a condensate drain. The conduit requires nothing more than a small, three-inch hole, in an outside wall. Ductless systems utilize inverter technology, and continually adapt to varying conditions within the home. By operating longer, on lower speeds, the unit functions at peak efficiency, saving money on energy bills.
The indoor unit is small and lightweight, and can be mounted high on the wall, or even on the ceiling, integrating neatly into any decor. Temperature and fan speed adjustment, as well as switching from cooling to heating, is handled with the touch of a button on a handy remote. Operational noise is no louder than a gentle hum, and because it uses less power than a conventional air conditioner and eliminates energy losses from ductwork, these systems are extremely efficient.
The true advantage of a mini split system is room-by-room temperature control. The air handler conditions the room where it is installed, and works from its own thermostat. This allows heating and cooling of specific zones and not others, so you aren't spending money keeping empty rooms perfectly warm or cool. You'll also experience the luxury of individualized temperature control. For example, each bedroom can be set to answer personalized comfort preferences for a better night's sleep. While most forced air systems lack zoning capability, or are extremely complicated, a mini split system is user-friendly. And the installation technicians from Broom Heating & Air Conditioning will make sure your are familiar and comfortable with operation.
As a Carrier Factory Authorized Dealer, the team from Broom Heating & Air Conditioning is held to exacting standards of customer commitment, business management, and expertise. Continued factory updates keeps our technicians current with industry advancements. Extensive hands-on experience and product knowledge qualifies our team in the specialized installation of ductless mini splits. These innovative systems should always be implemented, maintained, and repaired by licensed HVAC professionals with a solid background in ductless technology. Your service technicians from Broom Heating & Air Conditioning will perform a load calculation to ensure the correct size for each indoor unit, and also the optimum location in each room. An oversized or poorly placed air handler will hinder performance, costing more operate and succumbing to more frequent repair needs.
Trust in Broom Heating & Air Conditioning for all your ductless HVAC service, repairs, and installation needs!
Broom Heating & Air Conditioning has gradually expanded our client list over 45 years of conscientious service in Blythewood and throughout Columbia SC, Dentsville SC, Lexington SC, West Columbia SC, Blythewood SC, Irmo SC, Forest Acres SC. We answer the most complex challenges to temperature control with straightforward, cost-effective and rewarding solutions. By treating you, your home and investment the way we'd like to be treated, we make sure you are completely happy from start to finish. Our entire team of factory trained and dedicated professionals share the same way of thinking, and we act accordingly. We satisfy our customer's indoor comfort needs as we would our own.
---
HVAC Company, Ductless Air Conditioning, Mini Split AC, Ductless AC Unit, Ductless Heating and Cooling Contractor in Columbia SC, Dentsville SC, Lexington SC, West Columbia SC, Blythewood SC, Irmo SC, Forest Acres SC