Being a homeowner is a full-time job, so when you're already facing an endless list of tasks and projects that need to be completed, the last thing you want to deal with is a lesson in thermodynamics. However, being aware of some basic scientific principles can help you make your home a more comfortable place in which to live.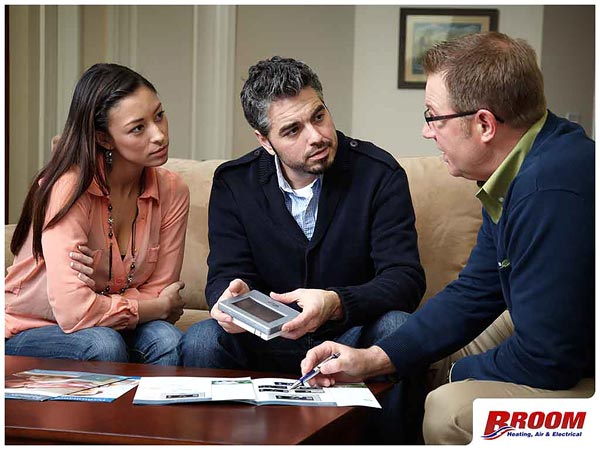 In today's article, HVAC contractor Broom Heating & Air Conditioning tackles two basic thermodynamic principles that can help you operate your HVAC system more efficiently.
Thermodynamic Principle #1: Heat will always follow cold.
Heat is in a constant state of seeking equilibrium. This means that warm air will take over colder areas until the entire space reaches the same temperature. A prime example would be when you open the door of an air-conditioned room for just a few seconds, only to find that the warmer outside air is starting to warm up your cool indoor air.
Practical application: You should always check for the presence of cracks or gaps before cranking up your AC. Otherwise, you'll just be putting unnecessary strain on your cooling unit, which can result in the need for costly and untimely air conditioning repair services. The bottom line? Be vigilant about making sure the sealants around your windows and doors stay intact.
Thermodynamic Principle #2: Warm air rises.
Have you ever noticed that your cellar or basement is somehow always colder than the rest of the rooms in the house? If you have, then you've just witnessed a thermodynamic principle at play in real life. This is due to the fact that warm air rises.
Practical application: The temperature to which you set the thermostat should be based on the location of the room.
A More Comfortable Home Awaits You!
Here at Broom Heating & Air Conditioning, we won't bore you with science lessons. We'll just deliver outstanding HVAC services. You can count on us for excellent workmanship, whether for an air conditioning installation or a repair. Call us today at (803) 754-5466 to schedule an appointment.